My inspiration for this Birthday Banner is my Grandmother who is a true Artist. Her craft is weaving and painting. She used to paint in Paris and England and her weaving's hung in Galleries in Canada. It's amazing what she created with wool.

One of her most favorite colour combinations was similar to the banner I created for her 90th Birthday Party. (hence why I chose these colours) The colours are all from the 2011-2013 In Colour Collection from Stampin' Up! That would be Calypso Coral, Lucky Limeade, Island Indigo and Pool Party (I may not know what to do with myself when they retire in a few months) This Banner has a Vintage Colour Combination which I adore.
Letters I printed on my computer are matted on Basic Grey cut out with the Labels Collection Framelits. I used a Calypso Coral Stampin' Write Marker (or Copic Marker) to fill in the letters with some colour. I felt they needed a little something something.
To Embellish the Banner I used flowers punched using the Itty Bitty Punch Pack. I made Paper Rosettes from Designer Series Paper with Buttons in their centers. Rhinestones are randomly placed on some pennants as well.
To attach the Pennants together I used Brads from last years Sale-a-bration freebies since they're made with the same In Colours. Then twine to hang the Handmade Birthday Banner up from the mantel.
These are medium sized pennants at 5-1/2″ across and 8-1/2″ from the top to the point. You get 3 pennants per 8-1/2 x 11 sheet of card stock.
How to Make a Medium Size Pennant:
Have Card Stock lengthwise. (Longer sides at top and bottom)
On the top edge measure to 5-1/2″ and mark.
On the bottom edge measure to 2-3/4″ and mark.
Continue measuring same edge to 8-1/4″ and mark again.
Using a ruler edge score a line going from top measurement to the bottom first mark 2-3/4″.
Repeat scoring from top measurement this time to second mark on bottom 8-1/4″. (you now have the center pennant)
Now repeat scoring from both bottom marks this time to top outer corners. (you will now have all 3 pennants)
Cut out pennants along your score lines.
I hope that's clear enough to understand. :-)
Some other decor – here's some of the Tissue Paper Poms that hung during the party as well. You can see a corner of one of my Grandmother's wall hangings in the background as well. Unfortunately I didn't take photo's during the party of the decor we did.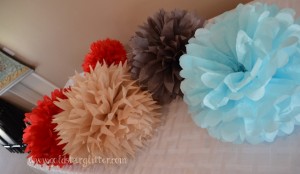 Thanks for stopping by and have a Glittery Day!