Here's a Do It Yourself on How To Make Dipped Pretzel Sticks and what to do with any left over melted candy melts.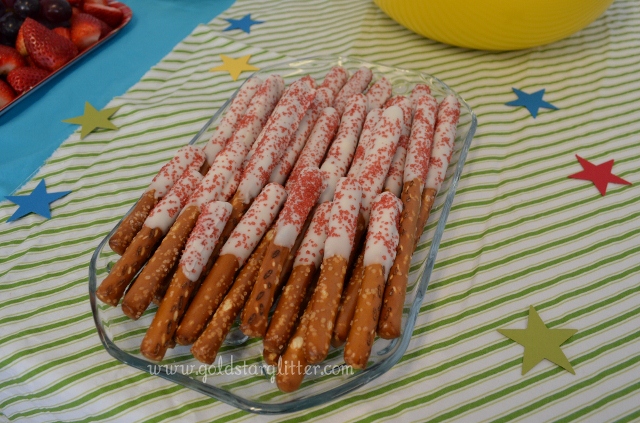 I enjoy making these easy and delicious treats for parties. You can customize them easily for your party theme by changing the colour of candy melts, changing the colour of your sprinkles or drizzling a contrasting chocolate over them.
Here's what you need.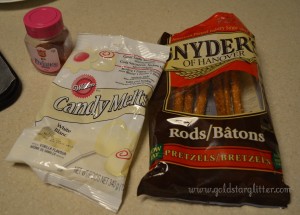 Candy Melts
Pretzel Sticks
Sprinkles
Electric Skillet
Crisco Vegetable Shortening (optional)
These are directions for how I make and there are most likely many ways but I thought I'd share my method since it's quick and I know it works.
Step 1
Melt the candy melts according to package directions. I then stir in about a 1/4 teaspoon of Crisco to give the melts a smoother sheen and consistency.
Have some water in your electric skillet on warm and place your heatproof container in it. (I use a measuring cup) This will keep your candy melts melted while working and therefor a smoother nicer consistency since you won't have to remelt them a couple times.
Tilt your container so the chocolate moves higher up on one side to cover higher up on the pretzel stick.
Dip your pretzel stick and spin it to coat all around.
Gently shake excess off.
Step 2
Remove the pretzel stick and hold over your bowl/plate of sprinkles. The plate and bowl catch the excess.
Sprinkle or drizzle whatever you wish on as you spin the pretzel to coat all sides.
Step 3
place on a wax or parchment paper lined baking sheet.
Once your sheet is full place in the fridge for a few minutes so they set.
If your doing lots just continue on a second baking sheet while the first lot sets. Once they're set place on a serving dish and voila! I hope I made sense in my directions.
EXCESS CHOCOLATE – no problem
I almost always have a small excess of chocolate left over and can't bare to waste
anything so I make up a random treat with it. This time I just threw a bunch of stuff in I had in my cupboards. This treat was incredible and my husband couldn't stop eating it. I added crushed up Ritz Crackers, marshmallows, Chocolate Mini Eggs and Sunflower Seeds all tossed up with the leftover melted melts and then set in the fridge.
Crazy rich but Soooo yum!!! Thanks for stopping by and have a Glittery Day.