My Paper Pumpkin Kit for the month of April is fantastic. The project was some cards and they were very male oriented and worked out perfectly to give to the men in my life. I adapted some to create birthday cards for my 19 year old step sons. Loved how they turned out.

The silver button, the Linen Thread and the Designer Paper that reminded me of waves, are perfect for a masculine card or male card. And it's fun to add your own touch to customize the cards if needed. I used the word 'You're' from the Oh Hello Stamp Set and the numbers are from an old number stamp set. Otherwise everything else came in the kit. The die cut embellishments have a sticky back too which is great.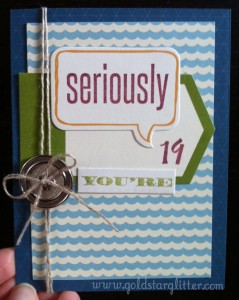 The April Paper Pumpkin Kit came with 3 stamps however I only really love the 'one that says Seriously'. I've found this monthly craft kit to be great for always having cards on hand. I'll post about this months project soon as well.
If your interested in this cool monthly program just check out the tab Monthly Craft Subscription. Thanks for stopping by and have a Glittery Day!