This wedding card I designed I wanted to make it beautiful and sparkly since it was for my oldest friend! I used white mainly and purple as an accent colour since its her fav colour and wedding colour. I forgot to take pictures until I was already on route.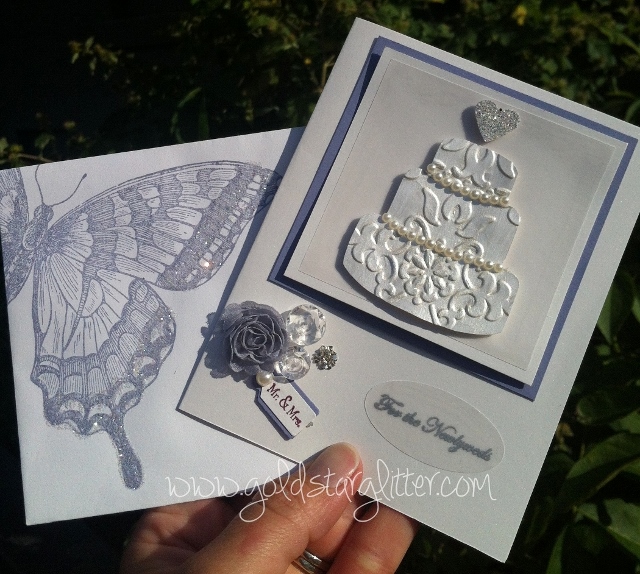 For the cake I sketched out a tiered wedding cake shape, cut it out and traced it onto white card stock. Once I cut it out I texture embossed it and painted it with Shimmer Paint. This gave it the pearlized look. I should probably done a second coat but whateves.
To complete the cake I layered pearl strands along each tier and topped it with a small heart punched out of Silver Glimmer Paper. Love that paper!!
My card stock layers bottom to top:
Entire card is Shimmery White Cardstock
Wisteria Wonder Cardstock
Shimmery White Cardstock
White Velum
I popped up some layers with Stampin' Dimensionals to give more dimension.
For the cluster I used Vintage Faceted Buttons, Flower Trim, Pearl Basic Jewel, Silver Glass Glitter, and a Jewelry Tag Punched, layered and stamped with Mr. & Mrs.
The Flower Trim was actually vanilla colour so I sprayed it with my Stampin' Spritzer using alcohol and Wisteria Wonder Ink Refill.
I then heat embossed the sentiment 'For the Newlyweds' from the Teeny Tiny Wishes Stamp Set in silver on a velum punched oval.
Inside I stamped Congratulations with the Curly Cute stamp set (not shown).
For The envelope I stamped the Swallowtail Butterfly Stamp partially off set in Wisteria Wonder and added some Dazzling Diamonds Glitter to the wings. Looked gorgeous.
I love how this card turned out and I hope you do too. Some of the items I used have been retired but you can always substitute.
Thanks for stopping by my blog and have a Glittery Day!