I have a post of the Fall Theme version of this bin that gives the details how to make it. To make it Christmas Theme I just bought a pack of sparkly pom poms at the dollar store in red, green and white. I put them in a bowl on the table beside the bin and the kids loved it!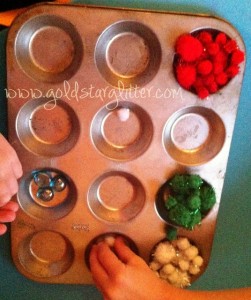 First they sorted the pom poms by color and then mixed everything up and made cupcakes, ice cream, etc.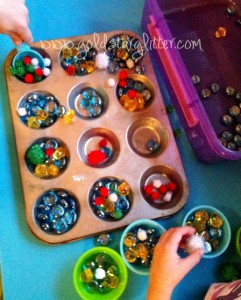 Then we separated the pom poms again and counted them out in a muffin tin. So 1 pom in the first cup, 2 poms in the second cup, 3 poms in the third cup, and so on. You can make it an early learning math game too. Have each kid put 3 in one cup and go over 3 + 3 = how many. We ran out of pom poms by the time we got to the 11th cup so just used beads for the last bit.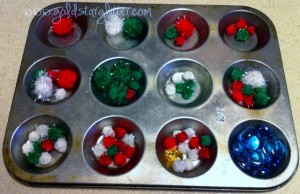 Thanks for stopping by and have a Glittery Day!