My son loves gymnastics so it made sense to have his birthday party at his gymnastics club, Club Aviva. We celebrated my son and my nephews birthdays together. They set everything up for you and that was hard to let go of control but you know I let go and went with it and…. it was great.
They hung the tissue paper pom poms and pennant banners. It wasn't what I had in mind for hanging the tissue paper pom poms but whateves. They were above the table all the kids sat along to eat and have cake and it was perfect. Check out my video tutorials for how to make both of these decorations yourself on my YouTube Channel http://www.youtube.com/GoldstarGlitter or click the photo.
My son wanted a popcorn cake because like me he looooves popcorn. So yummy. Basically the same way you make rice krispie squares but use popcorn instead.
Of course cupcakes too.
This was all the extra food and desserts we brought since they provided hot dogs or pizza and drinks for all the kids. They laid out the tablecloths and the stars we'd punched out for sprinkling all over the table like confetti.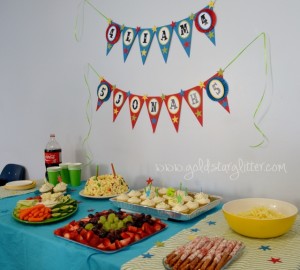 We had 2 hours there. The kids got to play games and then have free time to play in the gymnastics equipment like the trampolines, foam pits, bars, etc. The final part we got a party room for the food, cake and presents. It was a great way to celebrate their birthdays. I hope this gives you some inspiration and ideas for celebrating a girl or boy birthday party:)
Thanks for stopping by and stay Glittery!