When my daughter turned 2 she had a Minnie Mouse Birthday Party. We went with the traditional Red Minnie Mouse version instead of the newer pink Minnie Mouse. I ordered a Minnie Mouse dress from Disney online that was sooooo beautiful with sparkly dots and velvet! She still wears it daily everywhere.
Party Inspiration:
Red, White and Black of course with a bit of yellow because Minnie's shoes are yellow. I also decided a touch of blue because the sky in the cartoons and the original Minnie wore a blue dress if I'm not mistaken. Of course Minnie Mouse herself and the Clubhouse friends were also inspiration. From here I could design the decor, food and games.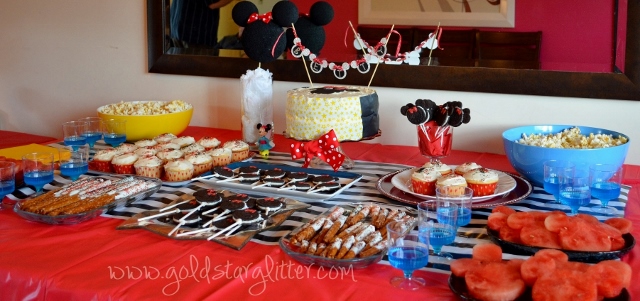 Food: Hot Diggity Dogs with gourmet fixings like cheese, chilli, pickles, mustards, etc.
Dessert & Snacks:
Birthday Cake. The inside is chocolate and vanilla checkerboard cake. I decided not to make red or black icing because I didn't want all that dye being eaten. So just a small amount of black on the sides and top using a super thin sugar sheet by Wilton. I cut out the Mouse shape and made the bow with a candy writer.
Dipped Pretzels with color coordinated sprinkles. How to Make these here.
Shaped Watermelon using cookie cutter & Blue Jello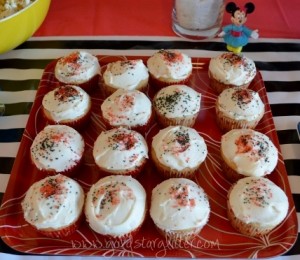 Cucakes with color coordinated sprinkles & popcorn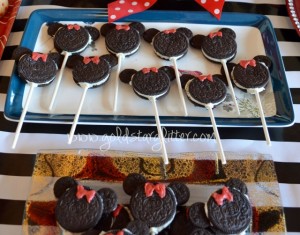 Minnie Mouse Oreo Pops
Minnie Mouse Oreo Cookie Pops
You need regular and mini Oreo cookies (or similar). I found it was easiest to take the mini Oreo's apart and just use 1 cookie part for each ear. Melt some white chocolate melts and use it to stick the 2 mini Oreo ears on 1 large Oreo head between the cookie layers to the icing. Use a lollipop stick with some chocolate melt on it to stick into the bottom. Set in fridge. Double stuffed Oreo's would probably make these easier to make.
For the bows I used a red matte candy writer and drew them on. It's a hard candy writer you melt to write with and once it cools it goes hard again.
Games:
I had all the kids line up at Minnie's Bowtique. Boys got Mickey Ears and a bow-tie clipped to their shirt and girls got Minnie Ears with Bows on the headband. I made these myself and have 2 Video Tutorials on How To Make the bows and How To Make the ears below.
Once Mouse-ified they were ushered over in front of the Photo booth backdrop for a quick picture.
Then all the kids together had to say the magic words to start the party. Meeska Mouska Minnie Mouse! Then they all danced to the theme song for The Mickey Mouse Clubhouse TV show. They had so much fun it probably played 3 times.
Help Minnie Find Pluto's Dog Bones. I bought a box of Milk Bones at a pet store and actually sorted through them to use only the red and dark chocolate brown ones (had to stay with the color theme! hahaha) Anyway the bones were hidden all over the main area of the house for the kids to all find.
Next it was Minnie Mouse's Polka Dot Hop. Blow up red, black and white balloons and keep in a garbage bag until ready to use. I quickly emptied them on the floor and everyone had to hop on them to pop all the polka-dots. (Get it – the balloons were polka dots like on Minnie's dress) I also put candy in some of the balloons so when they were popped they got a prize.
Decor:
Minnie Mouse Table Centerpiece
Paint 1 large and 2 small Styrofoam balls black. Use wooden skewers to hold the balls as you paint and to allow to dry.
Glue together with hot glue gun to make Minnie Mouse head. (be careful not to melt the Styrofoam)
Follow my video tutorial for the bow and glue onto larger ball between ears. You can hang this or use a wooden skewer to stick in a vase or anything else you want. Enjoy!
Minnie Mouse Cake Topper
I used Stampin' Up! products to create this custom cake topper. I shaped the Rhinestone strips into the letters.
Silver Glimmer Paper # 135314
Circle Punches # 119860 # 119873 # 119868
Red & White Ribbon (retired)
Rhinestone Basic Jewels # 119246
Basic Black Card Stock # 121045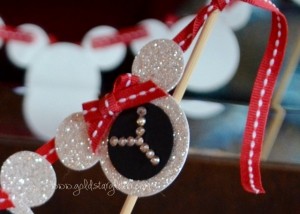 Tissue Paper Pom Poms
Here's a video on How To Make Tissue Paper Pom Poms. I made different sizes in black, red and yellow to hang over the dessert table.

Photo Booth
I ordered Red wrapping paper with white polka dots online from Amazon and taped it on the wall. I also made some very large paper rosettes and then randomly stuck those onto the paper backdrop. Along the border we ran a strip of red & white polka-dot ribbon to finish the edge. This isn't the best picture of it sorry.
Tutorial for these Minnie Mouse Extra Large Paper Rosettes coming soon. Materials used are from Stampin' Up!
I hope you find these ideas inspiring and helpful. Thanks for stopping by and have a Glittery Day!