Silly me I forgot to let y'all know about the new Annual Catalogue Stampin' Up! released this month. This catalogue is full of fun new stuff as you can see mine is full of sticky tags showing almost everything I want. Sometimes when a new catalogue is released I get caught up in it and forget to share. I've also updated the link on the side too so you can view a free digital copy if you so desired.
So tell me have you seen it? Do you have any favorites? Here's a few I really love and wanted to share with you.

2013 – 2015 In Colour Sequin Assortment – I know I know you can get sequins a lot of places for super cheap but are they COLOR COORDINATED!!! hahaha but seriously I'm serious:) other sequins are hard to perfectly coordinate unless your using silver or gold. And how about the shapes you get them in…LOVE! Also honestly who can resist sparkly sequins. These can be used as any embellishment especially if you have a cluster of embellishments.
Designer Washi Tape Sets – Super cute designs and colors. I have the Watercolor Wonder Washi Tape but honestly I have no idea why the gold tape is called watercolor…..just sayin! Do people water colour in gold?…..  It should have a Gold Glamazon name or something. anyway…movin on. Washi tape is so versatile and can be used in tons of DIY home decor too. One cute home decor DIY I've always loved is wrapping washi tape around the square of your phone charger so it's stylish in the wall on the counter. This is a fun way to update your patterns and style over time.
2013 – 2015 In Colour Cut & Ready Card Bases – How handy are these? I know it's easy to use the card stock you have and cut it in half but this makes things easy peasy. The price point is good. You can create a great set of Thank You Cards or just a variety box of cards for the stockpile of cards to keep in case of any occasion from these.
Itty Bitty Accents Punch Pack – So cute and how versatile right! The mini heart is a great shape and The mini star is such a handy punch especially for Christmas time to use for tree tops, etc. I do really enjoy these mini punch packs and so happy they released a new one this year after retiring the last pack.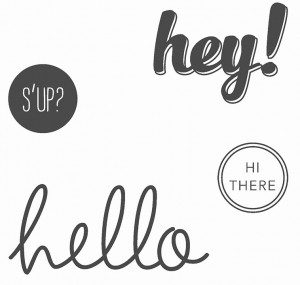 Hi There Stamp Set – Love the simpleness, versatility and fonts used. Stampin' Up! Has some good examples of this card in the Annual Catalogue. The 'Hello' stamp alone can be used in so many ways and mixed with tons of sentiments or greeting from other stamp sets very easily.
Peace, Love & Cupcakes Stamp Set – At first I just passed by this stamp set and then I said wait a minute this is such a cute stamp set, You can do so much with it and you can make some awesome modern cards too. The stamps can be used individually or together in tons of combinations. You could use the 'Happy Birthday' word stamp with just the cupcake stamp or the 'Peace, Love & Cupcakes' word stamps on a their own. So cute!
Traveler Stamp Set – Simple yet effective name right. I love this set for its world traveling theme and it's vintage look as well. Sorta takes you away to another place. It's super great for making cards for the men in your life for birthdays or Father's Day, etc. You could even try your hand at using the new Blendabilities on these stamps.
Im also super excited about the Blendabilities. They are pretty much copic markers and yay for Stampin Up! To bring these in.
I could show so much more I'm in love with but then this post will be miles long. You can order a copy online from Stampin' Up! and please select me As your demonstrator if you do! *hugs*   If you want to look at the catalogue online just click the tab on the right. You can download a free copy or view through Stampin' Up! 's website as well.
Thanks so much for stopping by and have a glittery day!