It's my nieces birthday and we had decided to get her a super fun-tastic gift. I'm a massive Disney fan. Kind of a Disney geek. Always have been and luckily so is my husband. Maybe that's why we have much in common. haha…..anyway…. My sister in law had told me about these super fun events put on monthly by a store in Maple Ridge. Apparently the kids love them and every month it's a different theme. For example Frozen, Star Wars, Sleeping Beauty, etc. When I was told the details of the events I couldn't pass it up. They will get to meet both Princess Anna and Princess Elsa. They're given a Frozen tutu to wear and keep, do some crafts, get their photos with the princesses and a goody bag. Ummmm why can't I be a kid again just for these kinds of things. I signed up my daughter for the Frozen Party and decided to bring my niece for her birthday gift.
So to give this as a gift I had to make up a certificate type thing and of course I couldn't just write it in a card. I wanted to make it look official. Here's what I made below. Simple enough but it's something to give rather than just tell her about it.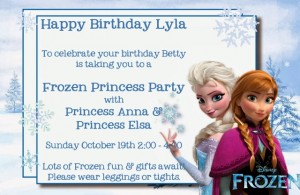 I found a free printable online that had both princesses and a nice background with room for text. Created the text using My Digital Studio software by Stampin' Up! however you can use something else like Photoshop. I color matched the text to a blue in the tree. I added some digital snowflake stamps and colored them matching other shades of blue in the background.
I wanted to get something else for my niece to go with the certificate so she has something tangible now since the Frozen event is just over a month past her birthday. Usually I look for presents at the Disney store so I can get a super special magical gift. I like to spread the Magic! Well the shelves honestly only had Olaf stuff and a hoodie. I love Olaf but….totally not what I had in mind at all. And seriously Disney where is all the Frozen merchandise!
Luckily there was one and only one stuffed doll. It was Princess Anna as the baby or little girl version. Well I scooped it up and she loved it and is excited to go to the Frozen Party. Yay success.
To get the free image I found online – Here's the link. Click on the image to view full size, then save image as you like.
Hope you have a wonderful day and thanks for stopping by!