I received the Monopoly Junior board game yesterday and we've already played it 4 times….yep I know a wee bit too much right. But you know young kids, they love repetition and really it's a testament to how much they like playing it.
Here is my honest opinion: I recommend this board game for your family for sure. It's very easy to learn and play. It's for ages 5+ and I've played it with a 5 year old and 3 year old. My 4 year old nephew played today too and a mix of different adults. Of course we helped the young ones count and read the cards, etc. I'm sure to play on their own they would have to be older. Everyone that played said it was fun.
All the money is $1 or 1 Monopoly dollar. I think this keeps it nice and simple for the younger age group. You collect $2 when you pass Go. You pay $1 to get out of Jail. There's Chance cards, etc.
How to play: Basically any property you land on you have to buy or pay the owner rent. If you can't buy it or can not pay rent then you are bankrupt and the game is over. Everyone counts up their moolah and the person with the most wins. I think there is a basic version to play and then the extra additional features like double rent, etc that you can gradually add on over time. The prices of property are right on the squares so it's easy to know how much everything is. Below we are all set up to start playing our first time.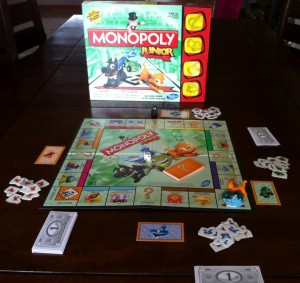 It is a shorter version of the Monopoly Board Game which I completely appreciate. Also kids don't tend to have the attention span for the long adult version. This evening while playing it ended because I went bankrupt and my 3 year old won! When I was playing yesterday I decided we'd played long enough and I said okay this is our last time around for turns and its over. My kids were totally fine with that I think because you go around and around the board so no one gets to the finish line like a race.
Quality: The board itself is good quality, colorful and lies flat. I've had some board games that when you fold out the board it's all wonky which makes it hard to play on. The game pieces are cute 3-dimensional characters. The sold signs are nice thick cardboard and the money is thin paper money.
My only complaint is once you open the shrink wrapped money and chance cards, and pop out all the sold signs there is no organized way to pack the game away. So you basically need zipper lock baggies and/or elastic bands to keep it from becoming a crazy bird nest of paper. And who wants to re sort all that small stuff every time you play? Not I.
So other than that simple fix of using your own baggies I totally recommend this board game for Game Night, for your Family, as a Birthday Present or Christmas Present.
A big thank you to Influenster and Hasbro for selecting me to review and enjoy this game for free :)
Thanks for stopping by and don't forget to stay social and connect with me on YouTube, Facebook, Twitter or Instagram. Stay Gold pony people.