In Vancouver we don't typically get snow for months on end so this year it's going to be super amazing to leave all this cold wet snow behind and head to Mexico for Spring Break. Can't wait!
For this beach vacation a new beauty item I'm bringing is Ka Brow by Benefit. It's 24-hour wear & waterproof so it's going to be great for the daily swims in the pool and at the beach. Now you can have not only waterproof eyelashes but waterproof eyebrows too. How cool right!
I have very sparse eyebrows and envy those of you with thick full eyebrows. Eyebrows frame your face and it's always been horrible for me to go on a beach vacation and not have eyebrows. I know…first world problem… But Seriously it's lame! I have tried eyebrow tints and such in the past, but it just doesn't quite work.
Another thing I love about Ka Brow is that the applicator brush is built in! Just pop it out by pulling the stem of the lid. You can also turn over the brush handle and click it into the lid for a longer brush handle. No need to take a separate brush to use the product.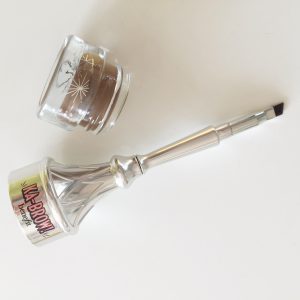 If you're not heading down south Ka Brow is awesome for anytime because it lasts and can be applied to look natural or dramatic for fun nights out.
I hope you have an awesome vacation and don't forget your sunscreen, sunglasses, bathing suits and flip flops!!