My daughters first birthday party has come and gone. It was so much fun for everyone. I love parties when they're fun, easy going and beautiful. As I said in my previous post I decided on a Butterfly Theme Party and also bugs since we have lots of boys coming. I was reading my sons The Very Hungry Caterpillar book and the last line says "and he was a beautiful butterfly" so that worked for me, boys can be butterflies too:) I dropped the bugs and it was just butterflies.
Butterfly Birthday Party Games:
Game 1 – To start the Butterfly Party Games we first talked about caterpillars and their cocoons that they live in and then crawl out of to become butterflies. Then each child crawled through a cocoon which was a pop up tunnel and once out the other side they got their Butterfly Wings to wear. I got them at a few dollar stores.
Game 2 – Once all the kids became butterflies for the next Butterfly Party Game they had to run around to find flowers for the nectar. I used pretty fake flowers from Michaels and pulled them off the stems. We placed or hid them all over the main party area. This way kids 1 to 7 could play as this was the age spread. They had to collect a few each and trade them in to me for the next game.
Game 3 – Then the kids were each given a butterfly net to catch butterflies. I stood on a chair and threw handfuls of butterflies in the air for them. Our butterflies were made of tulle, tissue paper and streamer paper. Some were cut out butterfly shapes and some were a rectangle twisted in the middle to look like a butterflies. They fluttered down slightly differently and we made tons to throw  It was so much fun and the kids absolutely loved it! Once everyone was done they traded their caught butterflies in for their choice of dessert from the dessert candy table. I looked at lots of stores and online for nets and the best ones were at a dollar store and they were even shaped like a butterfly.
For activities that could be done at leisure we also had face painting throughout the day and a Butterfly Craft table.
Supplies for the Butterfly Craft were paper coffee filters for the wings, pipe cleaners for the body and antenna, and lots of stuff to decorate the wings with like pom poms, feathers, glitter glue, glittery foam stickers, and stick on jewels. I've included a picture of my sons masterpieces below. Adults enjoyed chatting while making these too.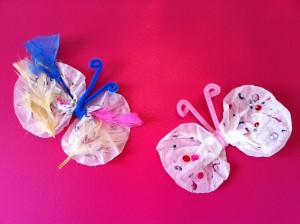 The Butterfly Wings and Butterfly Catching Nets were party favors for each kid to take home for their costume trunk.