Today is the day!! SO exciting when a new catalogue is comes out. Even more exciting when you can finally order the new stuff. You may notice too they've changed the name of the Idea Book & Catalogue to Annual Catalogue.
With last years catalogue retiring yesterday I have had to say goodbye to some of my absolute faves however it's a short sadness once you see all the fun new stuff.
I thought I'd share a few exciting items I can't wait to get my hands on.
This set is very trendy and modern with the patterns on the different drinks. You can use this set for Birthdays, Dinner Parties, and of course Christmas and New Years. Love it!!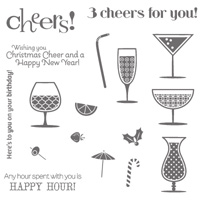 This is a beautiful stamp that can be used as a background stamp or as a focal image. Very graceful and versatile!
These Buttons are amazing. I have them coming to me very soon and I can't wait! The picture doesn't do them justice so I'll have to post one once I get mine. They're described as Vintage, glass-like accents. Reminiscent of vintage door pulls. Gorgeous!!
Let me know what you think or if you have any faves you want to share.
Thanks for stopping in!